Christmas Tree Painting, anytime with a reservation! Limited stock see below.

Item # 2030: 9.25 inch with Molded Star, light up tree: $57.00+tax
 1 LEFT
Item # 2011: 11 inch, light up tree: $75.00+tax 

 2 LEFT
Item # 2034: 13 inch, Light up tree: $99.00 +tax 

 3 LEFT
**Add on option: shimmer colors or glass green color $3.00+tax, permanent epoxy of plastic bulbs to tree by KCS staff $5.00+tax. Tree will take 10 days for firing process. 
Can call to purchase via phone or as a walk-in. Can bring back to paint at a later date. We will not hold them longer than 60 days from purchase date! Cell phone required for all purchases. Custom orders available with prepayment. All sales are final! BYOB available or age 21+.
More TREE'S Below!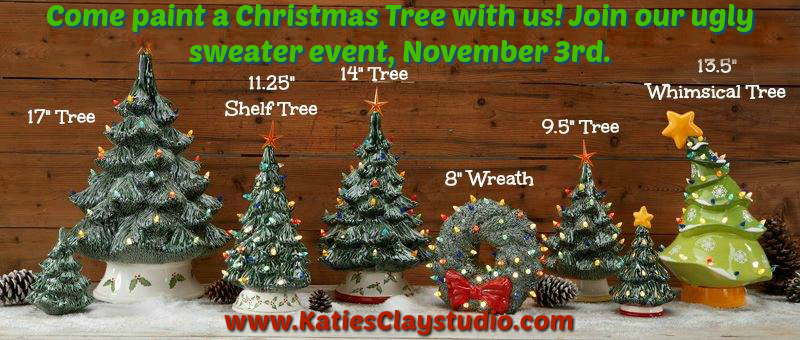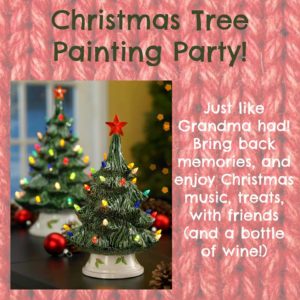 Tree Pricing:
All tree are two pieces and come with a light kit.
17 Inch Tree: $175.00 +tax,

ONE LEFT!

 
14 Inch Tree: $110.00 +tax 
ONE LEFT!
13.5 Inch Whimsical Tree: $95.00 +tax 

2 in stock
9 Inch Small Whimsical Tree: $65.00 +tax 

2 in stock
11.25 Inch Shelve Tree: $85.00 +tax 

2 in stock
9.5 Inch Tree: $65.00+tax
 2 in stock
One piece, Wreath: $50 +tax 

3

 

In stock 
* All trees will be sold as first come, first serve basis. Prices start at $57 and go up depending on size and style of tree. We will hold all pre-paid orders for 60 days. Please come promptly to paint your piece! Once an order is placed, no refunds will be issued except in the event that a product cannot be delivered.  We have limited stock available. CALL TODAY!
Call today to order your own Grandma Tree!!!