Welcome to Katie's Clay Studio –
Lets Get Muddy!
Now booking Spring Break workshops! call today! See spring break page for details! 
Monday: CLOSED 
OPEN 2/19/18 12 pm to 5 pm
Tuesday: CLOSED
Wednesday: 3 PM to 7 PM 
Thursday: 
12 PM to 8 PM
Friday:12 PM to 8 PM
Saturday: 
11 AM to 8 PM
Sunday: 12 PM to 5 PM
We will close 1 hour early if we have no appointments or call a-
head's. Make sure to check out our Calendar Page for specials, and limited hour days. After hours events are available with minimum purchase, call to schedule. 
Studio Announcements

:
Open Monday, 2/19/18 12 pm to 5 pm Reservations are suggested. 
 All ages and skill levels, we are here to help.
*(During holiday seasons, no school days and summer time) We suggest reservations of groups of 4 or more due to the holiday rush. Please call ahead for seating, especially on rainy days. Also please call ahead before coming to make sure we have not closed for off site event. We will try to always post something online before we close, we do have several off site events coming up, also if we have no one in the studio we will always close one hour early.
CLAY: (Wheel Throwing and Hand Building) and Tie Dye (in summer season) are by Appointment Only, please call to schedule your appointment today.
All patrons must pay the day of creating their project and are responsible for  PA sales tax. 
About Us: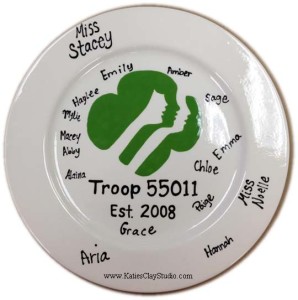 Katie's Clay Studio is located in the Pittsburgh, PA area, specifically in Hampton Township. Directions to our studio can be mapped to the right. Katie's Clay Studio offers a variety of services at our Studio.
We offer a variety of projects including:
Wet Clay (Hand Building), ages 9+ *reservation
Wheel Throwing, age 10+ *reservation
Paint Your Own Pottery, All ages
Tie Dye, age 8+ Summer only with *reservation
Glass Fusion, age 10+
Canvas Painting, All ages
Wood cut out painting, All ages
Custom Pottery
We offer and host events such as:
Birthday Parties
Summer Camp Programs
Field Trips
After School Programs at your school ask for pricing.
Boy and Girl Scout Activities (to earn art badges)
Merit Pottery Badge Class
Adult and Child Wheel Throwing Classes, ages

10+

Adult and Child Wet Clay sculpting Classes, ages

9+

Private parties!
School Fundraising & Auction Projects
Ladies Night Out
Mom's Groups
Red Hat Groups
Date Nights
Adult team building events
Call about scheduling your special event today!
We only accept walk ins when we have space. Please call ahead for seating during any holiday season.
Paint Your Own Pottery: ALL AGES!
Prices are all inclusive. Cost of item is on the bottom of each item. Costs range from $13.00 to $100.00 based on size, detail and design of the item. PLUS TAX.
Most items are under $25.00 the average cost of an item is $17.00, PLUS TAX.

Great for all ages–from baby hand print and foot prints, to toddlers' doodles. All ages are welcome.

Katie's Clay Studio will not fire any outside product, including clay, greenware and bisque ware. Sorry for any inconvenience.
Paint your own pottery will take 7-10 days to get back.
No reservation needed for paint your own pottery. Walk-ins always welcome, if we have room!
Don't finish in one seating. No problem, just bring it back to finish at another time. No additional fee charged. We can not store unfinished items, you must bring it with you.

Walk ins are welcome!*

*To guarantee a table during holiday seasons we strongly encourage you to call ahead or make a reservation for your group of any size. Especially during busy season for example summer, school holidays and around major holiday's. Walk ins are always welcome, but may have to wait for seating during the holiday season. 

Remember, we are a FULL SERVICE studio!  It is our pleasure to offer superior customer service.  Let us seat you, wait on you, and clean up. No experience needed, we are here to help!
Feel free to BYOB! Food only available if you book in a party room.
Clay Studio Fees: Reservation Required 10 and older
Lessons  are based on studio availability. Call to schedule your lesson today, see prices below.
Wheel Throwing ONE TIME Special: $55.00 +plus tax per person. Includes:

Instruction for up to one hour. ONE project made on wheel and the firings for that project.  Project will be ready in 2 week to come back to paint no additional cost. Additional Clay and glazes can be purchased for additional cost. Must return with in 30 days to complete project. We are not responsible for your unfinished projects after 30 days. We will give you all the tools and instruction to make one project on the pottery wheel. If you do not make on your first try we do charge a reclaiming fee but you can make another piece. Please ask for our add-ons and clay fee flyer when you have your lesson to see all the options available to you and your party. Reservation only. Age 10 and older.

Wheel Throwing: $30.00+ tax per person, PLUS price of clay used ($12.00+tax per pound) or in 25 pound block for $35.00+tax (includes bisque firing). New 1/2 block of clay for $25.00+tax.  A glaze fee the day of includes under-glaze paint. Specialty Glazes are extra in the event of a return visit after the initial firing. Reservation only.

This is appropriate for ages 10 and older

. For children under the age of 10, there will be an additional fee of $10.00. We can accommodate a group, up to 3 people at a time. May need additional time please call to schedule.
Open Studio for ADULTS (age 18 and over only):  $15 +tax per hour, must purchase clay (priced per pound, or purchase by block or box), trimming fee if needed and pay a firing fee. Must qualify first with 1 to 3 private lessons. Tools available for purchase or rental for fee. Appointment required.
CLASSES: Wheel class and after school programs are available please click the classes link to see what we are offering.
Hand Sculpting:

Ages 9 and older please

$10.00 +tax for instruction and tool usage- PLUS price of clay used (per pound) and a small fire fee per item.  Please make a reservation. Clay paints included. Second firing paints available for an extra fee.

Clay Hand prints for ages 5 months and older. Start at just $37+tax for clay imprinted infant hand or foot print.  Two part visit to paint with glaze.
We do sell low fire boxed clay call for details. Clay will need fired. It is not air dry.
Ask about Custom Clay Sculpting adult team building packages! Starting at just $25.00 +tax per person!
Clay projects can take 2-3 weeks to return, depending on the drying time, thickness, and weather conditions.
PLEASE ask to see our flyer with our add-ons and fees. We have it hanging in the studio clay class room
Payment is do in full day of creating, patrons are responsible for PA Sales tax.
UNDER THE AGE OF 7 will not be able to create clay, unless they are coming to a staff ran class or camp. See camp brochures for more information.

We 

DO NOT LEASE KILN SPACE

. We DO NOT fire outside clay or ceramics. Sorry for any inconvenience. 
Tie Dye Fees: June to September ONLY!
Please make a reservation.
We use professional grade dyes and chemical meant to make a shirt that does not fade and vibrant colors that last for years.
This is appropriate for ages 8 and older. with out parent help. 
Dye is permanent please wear old cloths and shoes, it doesn't wash out! We do supply gloves for your hands.
This is a "Make and Take" Project! We will give you simple wash out instructions to follow and you will get the shirts

that day! For $3.00+tax more per shirt, have us wash it out for you and pick it up 3 days later ready to wear! We use a professional grade dye wash, that will improve the look of your shirt for years to come.

Bring your own t-shirt

to dye Kids (Youth xs to Youth XL)$15+tax, Adults size small to Large $20+tax, Adult XL starts at $25+tax and goes to $35+tax,
Our new shirts start at $20+tax (youth) and go up to $55+tax (adult XXXL) depending on size.

Please make a reservation,

please know your shirt sizes

 when making your appointment. Appointment must be made at least one day in advance to allow us to make the dye. Tie dye is only in The summer months, June to September. Due to temperatures needed for the dye to set correctly.
Canvas Painting:
Ages 7 to 15 recommend for 12×12 kids canvas.
16×20 Adult canvas should be teen 14/15 age and older.
Reservations are not required, but give us a heads up to seat the table up for you. Walk ins are welcome! (we only a have few table large enough for creating with canvas)
Kids Canvas patterns start at $25+tax and go up.
Adult Canvas patterns start at $35+tax and go up.
Pick from tons of awesome patterns with easy to follow
*Step by step instruction given by a qualified artist and staff member. If you sign up for a class. Walk in canvas painting is on your own. with easy step by step instructions. 
Feel free to BYOB! Food only available if you book in party room only (reservation needed for the party room)
Large groups are easily accommodated, up to 15 in party room. Limited to 20 in whole studio.
Best part is its a "Make and Take" project! Please allow 2 to 4 hours to finish canvas painting pattern. Average canvas patters for adults will take 2.5/ 3 hours to complete.
Available for off site programs as well. Up to 20 people. Call for details.($35 to $45 depending on length of time along with a travel fee)
*Painting lessons: Want to paint like a pro? Or want a step by step. we offer adult painting classes by appointment. $75.00 +tax for up to 4 hours of instruction on one painting. Must make a reservation with Katie or Tiffany.
Light up kits for canvas is available for $10.00+tax. reservation needed with light up canvas.
Wood Cut outs 
Customized wood cut out shapes to be painted with our paint.
Personalize the shapes with your initials or monogram (pre-ordered).
Custom order your own shapes, over 300 different designs to choose from in our catalog! (May take one to two week for delivery, payment due in full prior to custom order.)
BYOB parties are available for this activity.
Classes are available or schedule your time to come and make one. Starting at $35.00+tax and going up depending on size. Smaller Letters are also available pre-order for $20 to $25+tax depending on the size chosen.
Glass Fusion: Ages 10 and Older:
All glass is priced per project base. Prices range from $20.00+tax and up.
$5.00+tax "shape" firing for a bowl, dish, or sconce.
Glass projects may take up to 2 weeks to get back.Due to a longer firing process.
Make sure to check out our calendar for our once a month class on glass. Glass Work shop, is the best way to lean the basics of glass fusion.
 Reservations needed for

instructor help

, 

especially for your first time

atour studio. First time glass projects, please come to glass workshop to

learn all glass fusion skills. We are happy to work with you one on one with a reservation.

Glass fusion course: 6 week class. 6 projects for $300.00 plus tax. includes, 6 different glass projects made. Several techniques covered. Class will be based on your availability call to schedule today! Age 10 and older.
BYOB is available for glass, NO FOOD is allowed while doing glass.



Glass Fusion is unpredictable, and therefore an experiment every time. No two projects will come out the same. Items may shift while firing this is based on your application of glass. We cannot guarantee that the will come out the way you have thought it would. We will always try our best to have the project come out to your liking. Some glass actually changes colors when fired.
 Click link to see application then just stop by or mail in. No positions available at this time. We are taking applications.
Click the link to donate to Emma's Memorial. We love you and will miss you always:

http://emmamunsonmemorial.com/